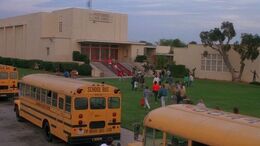 Westerburg High School is a fictional high school located in the fictional town of Sherwood, Ohio.  
Westerburg High is the primary setting of the Heathers film and musical. The mascot is a rottweiler. The school colors are red and black. 
This is the location where Jason "J.D." Dean dies in the climax of both the musical and the movie. His plan to blow up the school fails when Veronica Sawyer intervenes. J.D. has the bomb from the boiler room strapped to his chest, and it blows up in front of the steps of the school; killing him. 
Filming Locations
Outside of school / steps: John Adams middle school in Santa Monica, Los Angeles 
Gymnasium: Verdugo Hill high school in Tujunga, Los Angeles